Support For Rotaract Club of Bali Ubud Mobile Library: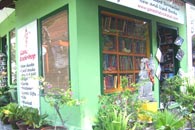 Ganesha library is very pleased to support the Club Rotarct Bali, Ubud, Ubud help its Mobile Library Project. The Mobile Library is currently working on Payangan Tampaksiring and primary schools and hope to go further in the near future. Travel Ganesha library staff at the Library Mobile and assist in various programs in each school.
The program consists of the Library: Learn to read, in both Bahasa Indonesia and English lessons through fun stories, games and songs. The main objective of the program, however, is to provide books for children who rarely have the opportunity to sit and read stories for pleasure. This program is very close to the heart of our book project in Bali, where we strive to promote literacy, learning and reading for pleasure in the Balinese community.  Please help us to extend the mobile library project in all regions of Bali. If you come to Bali and want to donate used books for the children, please do not let them in our libraries, either in or in Kerobokan Ubud / Seminyak.
Ganesha@Biku,Jalan Petitenget888, Kerobokan, Bali:
Ganesha Bookshop Ubud Bali are very pleased to have taken in this charming tea room restaurant. Biku is a very different type of restaurant. It is a wonderful Joglo 150 years, was renovated and air conditioned with antique furniture and leather lounges in great. It is the ideal place to relax, read, eat and drink. We have a good selection of new, used, worn, old and rare books in Indonesia. In addition, a range of cards and gifts by hand, newspapers and magazines around the world are invited to Book Club meetings, book presentations and discussion groups. Contact : info@ganeshabooksbali.com Please come meet the staff, examining the shelves and enjoy the atmosphere.

Ganesha@ubud, Jalan Raya, Ubud. Bali :
Ganesha Bookshop Ubud Bali flagship store in Ubud is packed with many new and interesting books in Bali and Indonesia. We've expanded our bilingual children's books to include many new (Indonesia / English) books and we also expanded the books Indonesian studies especially in the areas of Indonesian history, politics of Indonesia and the literature of Indonesia. Not all books listed here on the site, but you can always email us to request specific titles.

Location:
Ganesha Bookshop
Jalan Raya, (near the Post Office)
Ubud, Bali, Indonesia
Office Tel/Fax : (62-361) 973359
Shop Tel : (62-361) 970320
Email : info@ganeshabooksbali.com