National flag carrier Garuda Indonesia plans to open direct flights to Denpasar, Bali, from the United States, France and India in an attempt to boost the country's tourism that has been battered by the pandemic.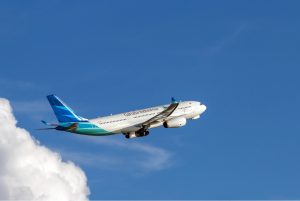 The direct flights will connect Bali with American cities like Los Angeles and San Francisco and Indian cities like Mumbai and New Delhi as well as France. The airline is currently in talks with the State-Owned Enterprises (SOE) Ministry and the Tourism and Creative Economy Ministry regarding the plan, according to Garuda president director Irfan Setiaputra.
"Garuda and the Tourism Ministry have agreed that the only way to boost foreign tourist visits is by introducing direct flights to Denpasar. Hopefully, we can make it through this crisis and start direct flights from countries that have large spending capabilities," he said during a hearing with House of Representatives' Commission X overseeing tourism on Tuesday.
Under the plan, Bali, Indonesia's long-time main tourism hub, would be the entry point for tourists, not the capital Jakarta.
"We'll also fit the schedule to accommodate tourists with morning arrivals and evening departures, so they can spend most of their time on the island," Irfan added.
Tourism has been one of the sectors hardest hit by the COVID-19 outbreak. Bali's I Gusti Ngurah Rai International Airport saw an almost 100 percent decrease in foreign tourist arrivals in May, compared to the same month last year, while Indonesia saw a 86.9 percent dip in overall foreign tourist visits in May, welcoming 163,646 tourists, compared to May 2019.
Bali's airport accounted for more than half of foreign tourist arrivals via air gates and 38 percent of overall foreign tourist arrivals in 2019, Statistics Indonesia (BPS) data show.
It is also high on the wish lists of many holidaymakers seeking to travel after the pandemic. According to Dutch online ticketing company Booking.com, Bali was listed among the most desirable tourist destinations by people in lockdown around the world in March and April.
Garuda itself saw a 30 percent year-on-year slump in revenue to US$768.12 million in the first quarter from $1.1 billion in the same period last year. As a consequence, it booked a $120 million loss compared to the $20.48 million profit recorded in the January to March period of 2019.
The airline launched a direct flight between Mumbai and Denpasar in 2018, which was later closed in 2019.
Credits to TheJakartaPost.com