Indonesia is known as the world's third largest coffee exporter. Explore the rich tradition of Indonesia's fines coffees- the freshest and most flavorful – with Kopi Bali the Butterfly Globe Brand, Indonesia's premiere gourmet coffee roaster. Discover an exciting variety of great tasting coffees, unique blends with distinct characteristics created from premium beans sourced from throughout the island of Indonesia.
History
Coffee, like tobacco, snuff, and wine, has a long history with a special charisma, not only because it is still many people in the process and creates employment opportunities, but also for its multiple flavors. Coffee has become a ritual for many people around the world.
The taste of coffee depends on where you plant and how it is processed and prepared. Therefore, before serving the coffee must pass through long and special recipes to help generate excellent tastes. Consumers can identify their favorite cafe, coffee producers to acquire a brand that guarantees consumer satisfaction.
Product
Discover the rich tradition of Indonesia best coffee, fresher, tastier – with the butterfly Globe Kopi Bali, Indonesia leading roaster of gourmet coffee.
Discover an exciting variety of large tasting coffees, unique blends with distinct characteristics created from premium beans originated in the islands Indonesia, the third world largest coffee exporter.
Kopi Bali uses only high quality grain grown in the mountains of Bali, where the volcanic soil and cool climate provide an environment conducive to Arabica tree.
Grains are ground by hand to remove dry leaves. Then held in a deposit of at least one year to allow time to mature.
In the factory of Kopi Bali Denpasar Bali Bean elderly are carefully handpicked and classification before cooking to exacting specifications to produce a natural mocha flavor. It contains no artificial flavors or chemical methods are used.
Kopi Bali Butterfly Globe is today Bali cafe favorites. They are sold in grocery stores, supermarkets and packaged exclusively for hotels and duty-free shops, Kopi Bali is the island's most famous local products.
Training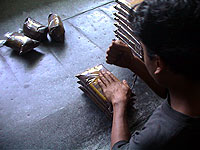 Bali Bali Kopi Coffee House offers free training (min. 10) in the art of coffee, offers professionals the skills to make the best coffee.
The preparation of excellent espresso depends on many factors such as quality of coffee blend, safe operation of the espresso machine and grinder and foremost, a technical mastery of the process of coffee.
The training covers all aspects of the coffee plant coffee itself and its different varieties, how it is grown and harvested, and the blending and roasting. How to choose and make best use of espresso and mocha pots also described in detail.
Course participants are taught to avoid mistakes in order to achieve a perfect espresso. They learn to make the best foam for cappuccino and Martin Luther King, and also how to make a variety of drinks including latte, mocha, and other favorites like ice cream, cappuccino and other mixtures of ice.
Typical course content:
The coffee plant
Roasting techniques
Coffee Grinders
Coffee machine selection
Perfect espresso
Operation and maintenance of coffee machines
Coffee Recipes
Location
P.T. Putra Bhineka Perkasa
Denpasar, Bali, Indonesia
Tel: 62 361 720589
Fax: 62 361 720667