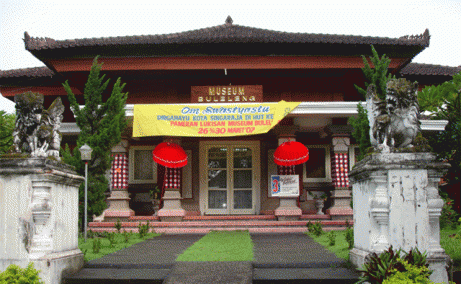 The museum-library Gedong Kirtiya was founded in 1928 by King Anak Agung Putu Djilantik of Buleleng , in collaboration with the Dutch, in Singaraja , which was then the colonial capital of the Lesser Sunda Islands ( Bali , Indonesia ). It is located in the former royal palace, now called "Sasana Budaya" ("Culture House").
---
His collection consists of manuscripts lontar (dried leaves of Rontal, Indonesian name of palm sugar ), prasasti (inscriptions, usually on copper plates) and manuscripts on paper and in Balinese fiction characters, including documents colonial period (1901-1953).
The museum has about 3000 manuscripts lontar, dealing with subjects as diverse as religion, ethics and morality, mythology, epics, architecture, medicine, genealogy, history of arts.
Dr Ketut Wirat Sindhu, former Bupati (governor) of Buleleng , is currently modernizing the museum library. Once completed, the museum will occupy the entire Sasana Budaya.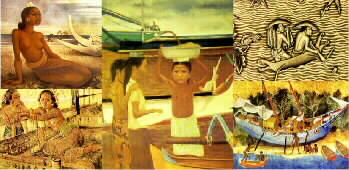 Sign attraction in the Museum Gedong Kirtya
A. Vedas (Bali)
Vedas: Vedas Indik Maligia, Pangentas Vedas, Vedic Panglukatan, Veda Sawawedana.
Mantra: Atmaraksa, Pabersihan, Pangastawa, Pujastawa, Tirta Gamana.
Kalpasastra: Banten Pangentas, Bebantenan, Holy Caru, Indik Galungan, Manca Balikrama, Pacecaron, PangabenaN, Pawintenan, Plutuk, Sang Kulputih.
B. RELIGION
Palakerta: Religion, Purwadigama, Awig-awig, Kerta ring Rice, Stri Sanggraha, Pamastuning, Cor, Widi Pamincatan, Adigama, Paswara, Kutaragama.
Sesana: Dasa Sila, god Sesana, Kerta Bujangga, Mantra Sesana, Son Sesana, King Sesana, Resi Sesana, Sarasamuscaya, Krama Sila, Sila Sesana Majesty.
Niti: Niti Praja, Niti Literature, King Niti.
C. WARIGA
Wewaran: Adult Ayuning Ala, Ala Ayuning Wuku, Palelintangan, Pangalihan Dina, Pawacakan, Sadreta, Suryamandala, Astawara magick, magick Pawetuan embraced wuku, Tetenger Sasih
Upadesa said: Aji Kalepasan, Atma Tattwa, Badawang Nala, Bima Swarga, Brahmandapurana, Buanakosa, Chess Janma, Dharma Bayu, Darma Disconnect, Kamoksan, Purwa Earth, Rwabineda, Siwatiga, Tantu Pagelaran, Tutur Pralina
Kanda: Asta Kosali, Cacakan chicken, Canda (residents script), Dasa name, Master Song, Kanda Literature, Kertabasa, Kruna linga, Panerangan, Pangayam-chicken, Pangeger, pangiwa, Pangujanan, Paramasastra, Paribasa, Pemanes Coral, loving-kindness , piodalan, Siksan Kedis, Smara Kanda, Swara Wianjana, Wrettasancaya
Anusada: Bebayon, Buda lyre, Pakakas, Panawar, umbal Leak, Usada Buduh, Usada Rare, Usada Go
D. ITIHASA (Epic)
Parwa: Astadasaparwa, Candidate Charcoal, Pamuteran Ksirarnawa, Uttara Kanda
Kekawin: Arjuna Wijaya, Arjuna Wiwaha, Barata Yuda, Boma Kawia, Gatotkacasraya, Hariwangsa, Ramayana, Smaradahana, Sumaasantaka
Song: Eyebrows Eyebrows Ijo, Jagat Karana, Panji malate Lasmi, Sri Tanjung, Sudamala
Gaguritan / Paparikan: Basur, Brayut, Bungkling, quarts, Durma, Jayaprana, Megantaka, Pakangraras, Sampik, Salya 5.
E. Chronicle
Pamancangah: Pamancangah Dalem, inscriptions (Brahmin, Sengguhu, Hamlet, etc.)
Chronicle: Babad Arya kenceng, Babad Buleleng, Gianyar Babad, Babad Mengwi, Annals of Panji, Wijaya Sakti, Babad Pasek, Babad Pasek Gelgel, Rangga Lawe Babad, Babad Bali USANA, USANA Java Chronicle
F. Tanti
Hindu Tanti: Song of Tanti (Bahasa middle), Ni Diah Tantri (Bahasa Bali Kepara), Tanti Kamandaka (Bahasa Kawi)
Tanti Bali: Gunawati, Tiny monkey