Based on the Purana Pura Sakenan compiled by Team Bali Cultural Office, that the temple was used as a place Sakenan manners subak beg God's blessing. Where, where they pleaded Sakenan Pura welfare. Asking for all sorts of diseases that destroy crops in the fields for eliminated. Mentioned in purana Sakenan keep it that Hyang Hyang Masceti stinky rice pest and keep rats so as not to damage the rice fields and farmers' fields. And, it must be remembered.
---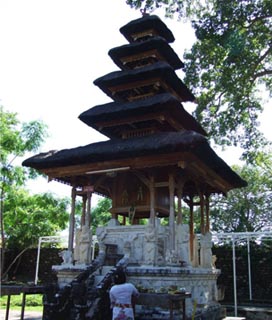 What about now? Rice fields and farmers' fields around the area Sakenan not work anymore. Actually growing tourism. The rice fields and farm population there tourism by developing marine tourism. Therefore, the perpetrators of tourism are expected to apply to live at Temple Sakenan welfare, for attractions such as Sanur, Kuta, Nusa Dua and Denpasar will be safe.
If the tour players pleaded with genuine welfare, surely there is no longer a terrorist group that disrupt tourism in Bali. Terrorist group that is now likened to stinky rice pest and the rats in the fields. Therefore, just ask Him undoubtedly "rats" do not disturb the tourism of Bali. Have it done? The answer to the people.
From ancient times Hyang Maharesi Markandya build and organize the existence of the villages and create a welfare society. With the welfare application that, causing all sorts of plants that are planted, whether planted in fields and rice fields all flourish. That is what causes the followers he is very obedient and create prosperity together, all united and respectful to the Dwijaswara. Therefore thus Sakenan origin, then also called Sad Goda. Allowed use of the temple and temple moment brackets. The pakelem / padagingan temple in parentheses at the top and bottom. Gold ruby and selaka ingredients. While sesuaran / writing on his pripihan.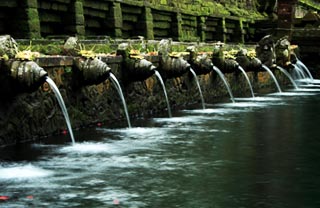 When he started to build temples Sakenan, under the provision of proper food arranged hyasan, segehan grand more. It is worth miasa 21 times. That's noteworthy when building a building for Batara Sakenan. If breached causing chaos throughout the country (world). Therefore, it should not be carelessly build pelinggih. Because, holy people to build a holy place, the form of buildings, and equipment based on the results of meditation.
There are also mentioned, including one Sakenan Pura Kretiloka Sad. Called as a symbol of the Sad Darsana. Sad called Atma Kretih Kretih namely, Ocean Kretih, Wana Kretih, Jagat Kretih and Jana Kretih.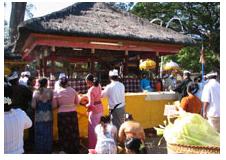 Sakenan temple itself is called Ocean Kretih. Sakenan it as a place of worship of Ida Hyang Biswarna or god Varuna. He is really a keeper Segara Pakretih (calm seas / oceans) for the salvation of the world, eliminating all kinds of barriers in the world, and all kinds of diseases and purify all kinds of time, bhuta and humans, and various kinds of diseases. So who is mentioned in the literature. Thus, for Hindus do not break them.
Pura Sakenan is a very sacred place and a place of safety around the world begging. Places of worship he founded in southern waterfront in the Village area attacks. Parahyangan sacred building was named Parahyangan Dalem Sakenan (Pura Dalem Sakenan) as a place berstananya Hyang Sandhijaya. Why called Dalem Sakenan? Because that's the word from Batara that provide instructions on when he chose the small islands in the southern ocean. It was there that was built Pura Sakenan because as a command through the voices of unseen (word) Ida Batara.
Pura Dalem Hyang stana Sandhijaya Sakenan is also called Tatmajuja, always keep calm seas (ocean pakreti), the savior of the world dams kala bhuta merayascita all kinds, human and all kinds of diseases, eliminate all types of disasters in the world.
History Pura Sakenan also can not get out of the way of the saints like Danghyang Nirarta, professor Kuturan, etc.. In the past, when the temple construction fasteners Sekar bun, people in the attacks and in the vicinity with a passion for ngaturang father. They are united and all of them pleading standard of living. As for those who are around at that time among other attacks came from Intaran, Suwung, Kepaon, Pemogan, Kelan, Jimbaran, Panjer, Hamlet Siran and more.
Pura Sakenan swamandala concept consists of pelinggih-pelinggih and buildings in it. Pura Sakenan consists of two pelebah namely Sakenan and Pura Dalem congregation / Upgrading General Sakenan.
Pura Sakenan has three pages (trimandala): main mandala, mandala middle, and insult mandala. Each halamam limited by the walls around complete with a kori agung, mace and bebetelan wedge. At the height of the great kori kala carved headdress. Inside the main theater there are a number of pelinggih such as temples, crown bale, bale pesandekan, and enclose the mace.
In front of the main connecting Curly Temple and mid-mandala mandala there are two statues that flanked Ganesha Temple Lock. Madya mandala is entirely surrounded by walls complete with Temple Bentar Penyengker on its west side and north side and petetesan on its east. In insult mandala just a blank page.
Pelinggih building which is on the rocks form the main mandala Padma Capah stana Batara Masjati Ida, as well as the worship of Sakti Jro Hamlet. Meru Tumpang Three stana Batara Batur, Intaran, Ida Batara Muter. Teak Gedong stana Ida Ratu Ayu, Gedong (Feature) stana Batara Buitan and Batara Muntur. There is also a big bale or bale paruman function as a place of congregation stakeholders, and also a place of purification pratima Ida Batara and place the Sulinggih and the king at the moment there is ceremonies pujawali.
Told that the descendants of Ida Batara Sakti acceleration is enthroned in Puri acceleration, all of them have got the position and also given the task to be penganceng, pengempon residing in the territory of the Kingdom of Badung. Puri Agung Pura Kesiman assigned as pengempon Sakenan, Puri Oka pengempon Denpasar Pura and Pura Batu Wadon composition Tegeh. Puri Agung Jro pengempon Kuta Uluwatu Temple, Puri Kawan Kaler pengempon Geger Pura and Pura Pucak Tedung, Puri Denpasar pengempon Pretending those others in the region of Jembrana and Castle Hill and Langon pengempon Pura Tenget Chest. So from then on Puri Agung Kesiman be penganceng / pengempon Pura Sakenan until now.