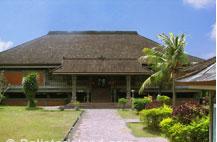 Subak Museum is a museum collection of traditional Balinese farming tools and documentation of age to remind the younger generation throughout the Organization Subak to be known around the world. It is in the district of Kediri Tabanan regency Sanggulan field and under a portion exactly 20 km west of the city of Denpasar. The museum is open to the public and be one of tourist destinations in Tabanan regency, west part of Bali. It is strategically located in the city and close to other tourist destinations in Tabanan in this regency.
---
Subak Museum of History
Subak museums, places of interest in the regency BaliTabanan is one of regencies in Bali own wide rice fields, while the regency is often called by the rice granary of the island of Bali. Sanggulan area was chosen as the venue for Subak Museum, for taking into account the Subak Rijksmuseum in the regency in 1979 have reached the national champion in the intensification of the investigation in Bali name nationally. Besides the Tabanan regency Subak Organization has more from other regencies. The development is inspired by Subak museum for all lovers of Balinese culture. This museum is designed to preserve the Subak as a cultural asset worthy in the local development and improve the field of agricultural production of rice, special rice and traditional irrigation system. This system is very popular abroad because of their own irrigation system Fai zangeres like Thailand and the Philippines to the abyss, and its characteristics are not like the existing Subak Bali. Subak is wet farmer organizations for agricultural water sources for irrigation.
What Subak Museum?
Farmers Irigattion Subak system, west Bali Subak Museum in the building was closed and opened. The building was closed to the booth where you can meet the proof of the elements relating to the work of farmers, which describes the creation of audiovisual Subak activities in relation to the management of irrigation water, library and office. Open construction is the display and demonstration of a mini Subak which consisted of a pool and irrigation relocation site, a tunnel to the flow of water from the pool for water transfer. Objects and equipment of farmers are shown in the exhibition building is the subject of computers and such equipment are prepared for the opening of the farm in agriculture, so that the elements of irrigation farming, processing, preservation of culture, harvest, so that the equipment and cooking rice. This is no different from other museums in Bali Subak Museum Sanggulan field has the following function:
    * As a center of scientific research and documentation
    * Instead of channeling science
    * Location coexistence of
    * Median instead of human inspection
    * Place of mirroring the history of man
    * The place to enjoy art and culture in general, the object
In an effort to tourism, this time can be the tourist destination, especially for inbound tourists from major countries like the United States, Europe, Japan, and this museum as a unique place of interest in Bali.