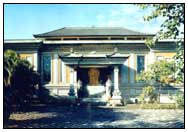 Rudan Museum was established in 1995 with the aim of providing an excellent collection of paintings for the public to study and enjoy. Their presence must also be considered as a complement to the existing total Museums of Fine Arts, which are required to improvise in the community in appreciation of the arts. Collections of works of art and social history of the nation, the future of young generations inherit cans, are kept in this museum.
---
The collections are inherently priceless historical heritage, which becomes a source of information and educational media. All these elements are important for the development and transformation of culture and civilization from one generation to another. This museum is also open to artists and persons of interest in this field to pick up. Here are exchanged experiences and ideas cans in their areas of respective interest.  

The collection was created through the purchase by Ni Nyoman and Wayan Olastini Rudan, WHO has shown extraordinary dedication in his twenty years of work in the promotion of Indonesia, including Bali, the arts and artists.
The three floors of the museum represent philosophical concept Anga Balinese architecture triple, three body parts: head, torso and legs. This concept, in the development of arts, gold represents the links of artists past and present. The third floor of the museum houses works of Balinese art styles ranging from classical to rock and Ubud. Among the works in this collection stand out names such as I Gusti Nyoman Lempa and Ida Bagus Made.
In the second stage and the first works of modern art in Indonesia is shown, which includes household names such as Affandi, Gunars, Wiant, and also the works of young talented artists, such as Boyke Aditya, Nyoman Erawan, Budhiana and done. The museum also has a large collection of expatriates recognized Antonio Blanco and WHO Bali physical and artistic home.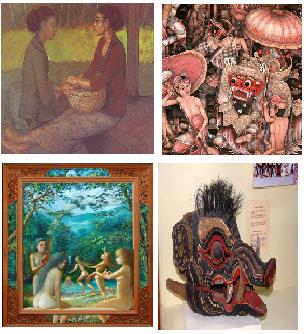 Artists PROFILE
———————

Dullah
Born in Solo in 1919. Dullah is a student of Affandi and S. Sudjojono, was formerly the Presidential Palace under Sukarno. It is also well known as an educator and a freedom fighter during the revolution in Indonesia. In 1950 he was a founder of the Association of Arts Surakarta (Surakarta Cultural Association). Founded in his letter that Sanggar Pajeng (Pajeng Studio) in Bali in 1970.
H. Widayat
Born in Kutoardjo, Central Java in 1923. He was an Indonesian student at the Academy of Fine Arts (ASRI). Widayat also studied ceramics and gardening in Nagoya, Japan. In 1952 established the Studio Painters Indonesia Muda (Indonesian Young Artists Studio). He taught at the Art Institute of Yogyakarta in Indonesia Standard Chartered Bank for decades. Received the Public Art Indonesia in 1972 and the Art of ASEAN in 1993.
I Ketut Budiana
Padangtegal born in Ubud in 1950. He began painting in 1970 and backed by the founder of the artistic community inUbud. His experience teaching at the College of Fine Arts in Indonesia from 1969 to 1971. In 1972 Budhiana He became a professor of art at the Ecole des Beaux-Arts in Denpasar and Ubud. In 1980, he founded in Ratna Warth Art Foundation, which organizes annual exhibitions of painting in the Castle Museum of Art in Ubud. He is founder and president general of the RWA. Like "Sangging" or a traditional master, creates art Budiana also sacred to the cult. These include the statue of the temple and ritual articles, or gods, masks and sacred objects used in cremation. There are many books in the Art Museum Puri, Neka Museum, Art Center in Denpasar, Rudan Museum and the National Fukuaka (Japan), plus there are many collectors worldwide.
DID WIRADANA
Cans past never disappears from human consciousness. human culture is always so scientific, mystical, religious or artistic. Manufactured Wiradana meditates on consciousness in its prehistoric paintings. Born in Denpasar, on October 27, 1968, is aware that "a huge prehistoric Niskala (not shown) of power, in addition to its unique beauty." Wiradana graduated from ISI Yogyakarta and has participated in exhibitions since 1989. If a solo exhibition in Yogyakarta in November 1999. Wiradana often used animals as their subjects. The shapes of these deformed creatures Submit your own unique beauty and are typical of his work.
I Gusti Ketut Kobota
Born in the village of Ubud Pengosekan in 1917. He began painting wayang (puppet) of Tjokorda Gambir in Puri Agung Oka Peliatan, and members of the association, headed by famous artist Walter Spies and Rudolf Bonet. His paintings depict traditional stories of the Ramayana and the Mahabharata.
I Nyoman Sumantra
Born in the village of Pengosekan, Mas, Ubud in 1972 I Gusti Ketut learning Kobota (members of Pita Maha). His paintings depict traditional stories of wayang stories.
Nadera IDA met
Born in the village of Tegallinggah, Gianyar in 1910 and in his hometown of charge as a local priest. Self-taught traditional painting at an early age. Nader is a member of the association, headed by famous artist Walter Spies and Rudolf Bonet. Many of his paintings went to collectors worldwide. It will not be able to live without painting.

DONE BUDHIANA
Born in Denpasar, in 1959, graduated from ISI Yogyakarta. Budhiana won two prestigious art Pratisara Adhikary Affandi in 1985 and 1986. Life is an abstraction of line, color, movement, spontaneity and unpredictability. Budhiana Done With this conviction, as an artist, is free wherever you want. He has been to explore the art world for decades and continues to produce work of an instance imagination. "There is a fundamental conflict between desire and reality. At the height of this conflict is the restriction cutting, my mind rebels, and Than Please paint, I feel peace in my soul." His style is completely unpredictable, sometimes it can leave gaps, and sometimes come with a willingness to pieces, but poorly integrated, completely captivating, reflecting the great strength of mind to guess the lines. Budhiana is a painter who has let his imagination that the boxes easier to capture what is around the uterus at some point. No need to wait some time after a day or something to make room for painting. For Budhiana, beauty manifests itself in all times and all spaces. Therefore it is not uncommon for him to work in busy locations with lots of people walking around, like the market, on the beach, in the streets of the city or the temple. "I respond to all situations and that's part of my creative process, which is the king of drama in nature," said Budhiana.
Ngurah Arya Arnawai
Born in Denpasar on March 22, 1950. His works explore and expand the boundaries of traditional Balinese culture, in search of new artistic possibilities. Often, their work includes traditional subject such as Shadow Puppets. He has exhibited in Berlin, Singapore, Japan, Kuwait and Darwin, Australia.
Ward PN
Born in Singaraja, Bali in 1933. He began painting in oils since childhood (14 years). A 16-year old Ward exposure to Denpasar with well known artists such as R. Bonet, Theo Meier, Cok Raka Chedi and T. Koop (1949). Ward's painting of the complexity of the double exposure photography. One is the image seems to impose on others. Forms are viewed through the prism of colors, which shares fragment moments at a time, they together in the same niche. Ward delves into the mysterious and surreal dreams and ideas begins deep within himself, more and more in his mind until it finally takes shape on the canvas.
S. TOYO
Soetoyo (S. Toyo) is a self-personality, born in Blitar, East Java, Indonesia. For the past by a particular process to partner with the world and the country. From childhood to draw as a hobby with a painting of a shadow play with puppets made of leather. philosophies of the world wayang has lots of good stories. About 1947, S. Toyo start learning sketch hero faces of the people, namely: Prince Diponogoro, Sentot Raden, Kyai Modjo, Sukarno (first chairman), Hatta (VP), General Sudirman, etc. S. Toyo teacher is a fan of Indonesia as Raden Saleh, Basuki Abdullah, Affandi, Dullah and S. Soedjojono. Even the best foreign artists such as Rembrandt, Goya, Rubens, Leonardo da Vinci and Van Gogh. Collectors of works of S. Toyo are Rudan Rudan Museum of Art Fine Arts gallery, Siloam Gleneagles Hospital, Lippo Art Foundation.