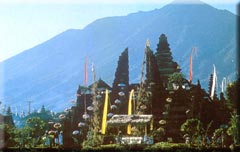 Pura Besakih is an activity center for Hindu religious ceremonies, Agung Pura Besakih is the essence Padma Bhuwana or its center symbolized the world shaped lotus flower. Hence Agung Pura Besakih is central to purify the world with everything in it, and is one tourist attraction that has unique characteristics compared to other attractions. Pura Besakih became famous for the temple complex which was established there, and became known as the Main Temple in Bali.
---
Pura Besakih is a complex of temples that is located slope of Mount Agung is the highest mountain in Bali, exactly in Besakih Village, Rendang Karangasem district, Bali.
Besakih temple complex consists of a central temple namely Upgrading Pura Agung Pura Besakih and 18 companion is a 17 Pura Pura Basukian and Other. All Hindus especially in Bali, has a temple penyungsungan (praying place) called Pura Pedarman in accordance with their dynasty, which is inherited by the next. Upgrading Pura Pura Agung is the largest in the complex of Besakih, the temples or pelinggihnya more, the ceremony also upgrading the region's most lots in this Court. Upgrading existing in this great three main temple and is the essence and all the holy building (palinggih) in the Great Pura Besakih. Padmasana-stana Three is the symbol of god according to the nature of Tri Murti Brahma as the creator, Vishnu the Preserver and Shiva as smelters.
Besakih was derived from very old age, because of the many relics of megalithic era, such as menhirs, stone throne, the terrace structure found in the pyramid complex of Pura Besakih.